Your garden might look good – but a brand-new patio is an easy and effective way to make it look great. Good old paving stones, or paving slabs, some of our inspiration, and a little of your DIY imagination are all we need to give your garden a new lease of life. So, get your next fix here.
How big a fix? That's entirely up to you, as are the stones, design and time you spend on building your patio. Again, at Plane & Simple, we're here to help get the job done right to save you time and cash.
Eye-catching concepts, the Plane & Simple way.

Before you do or buy anything – think about the size and shape of your garden first. You'd be daft not to. Decking your entire garden may look great. Adversely, an overly large patio sitting on a narrow grass border could look awkward and awful. Once you've given this some thought, there's no limit to what you can do.

A natural patio, or not?

Do you want your patio to look bright and bold, carefully considered or naturally blended into its surroundings? Whatever you want, you'll want to consider the following first:
Size, shape, colour and texture of slabs (do they sit well with your garden furniture, your home, your personality?).
Colour combinations – contrasting colours and textures can really bring your ideas to life; but a uniform layout can be just as effective.
Inject some of your own personality into your design.
Go crazy – with some crazy paving.
Be bold – make your neighbours envious with a multi colourway patio.
Think natural – natural/organic materials can look equally striking.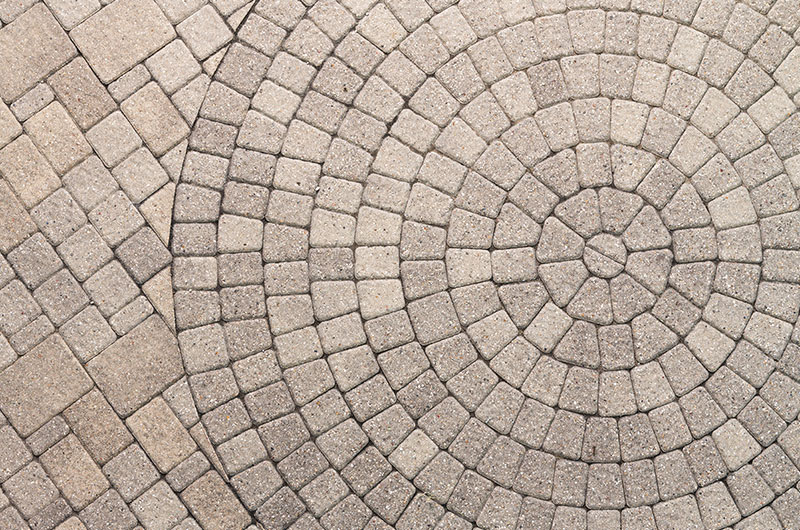 Patios made premium with steps, shades and shapes.

If you're considering a raised patio, why not raise it to another level – quite literally. The introduction of steps (whether stone or wooden) into your design is a neat way of making it look naturally fantastic. Again, consider the colour combination – be it bold and bright or subtle and subdued.
Another thing to think about is the shape of not just the stones but the overall design. The final shape may depend on the shape of your garden – but don't let that stop you from ripping up the rulebook:
Circular patios are perfect for focal points such as a small tree or a seating area.
Enlighten your design with some patio lighting – works really nicely on patio steps.
Who says you can't mix wood and stone together? Make it your way.
Less can indeed be more – especially if you'd rather the focal point of your garden was something else, such as a flowerbed, waterfall or you just want to keep it simple.
Basically, there are no rules when it comes to designing and building a patio. It's YOUR home, garden and patio after all. And yes, we want to see your end product and hard work – we may even feature it on our site.
Feel free to post your pics on any of our social media channels. Just tag us @planeandsimplediy or use the hashtag #PlaneandSimpleDIY