We Brits have fallen in love with decking in recent years. Since the pandemic, we've rediscovered the garden and started to really appreciate the extra living space it can provide.
With a good timber or composite deck, you can dine, play, relax and entertain out there. And if you're working from home, who's to say you can't take the laptop out into the sunshine occasionally?
For a fraction of the cost of an extension, a good deck is like an extra, fresh-air-filled room to use and enjoy. At least it is when it's not raining…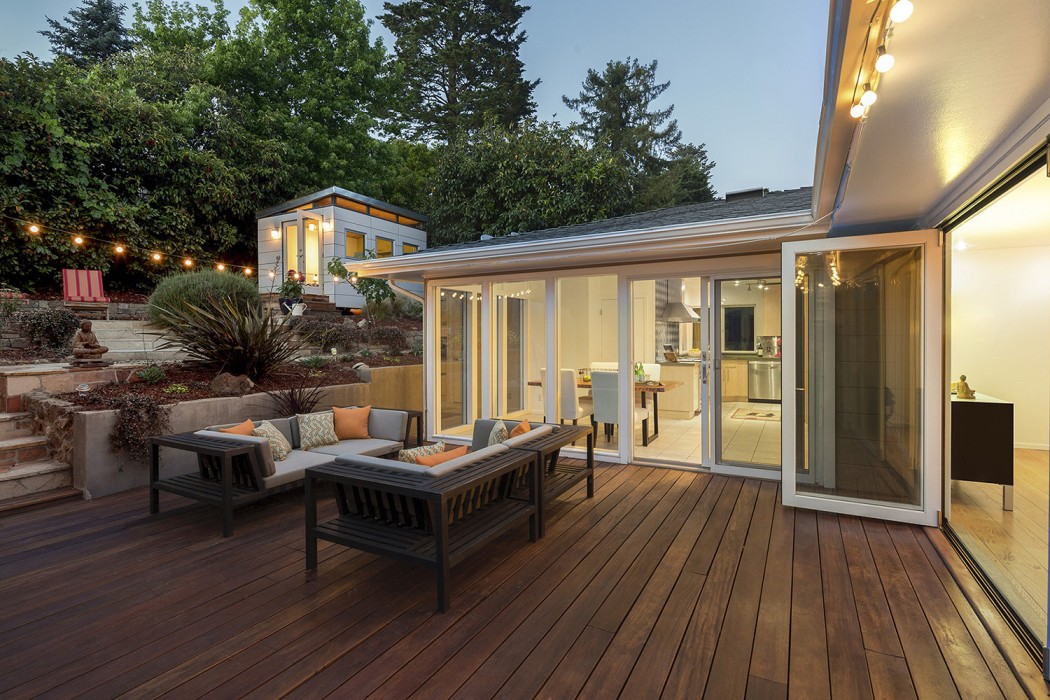 Swings and Roundabouts
When you're planning to fit decking, you want to start by choosing your material. For most of us, that means timber or composite decking.
For years, hardwood decking boards were the smart choice. There's a huge range of beautiful grains and shades to complement your home and garden design, and hardwood has a warm, natural feel underfoot. It's more expensive than softwood, but it'll more than pay for itself in longer life - providing you maintain it properly, that is. More on that below…..
The new kid on the block is modern, high-performance composite decking. The latest composite designs look and feel a lot like natural timber and come in an even wider range of colours and finishes. Composite generally costs more than timber, which you could say is a disadvantage of composite decking, but all it needs in the way of maintenance is the occasional wipe down.
How are you going to use your deck?
When you're considering garden decking plans, it's worth thinking about how you'll use your new outdoor living space.
If you're building a play area for the kids, composite could be the best choice. Composite decking is made by compressing wood fibres with plastic, so the surface is smooth, easy to clean and, crucially, splinter-free. We also often get asked is composite decking slippery – the answer to that is no, the grains and texture in the composite give it a good grip.
If you're planning to party on your deck, the elegant appearance of hardwood might just win the deal. Lingering over dinner and drinks on long, warm summer evenings is what many of us dream about when we're considering garden decking ideas, after all. Just as long as you're prepared to clean up that spilled glass of pinot noir.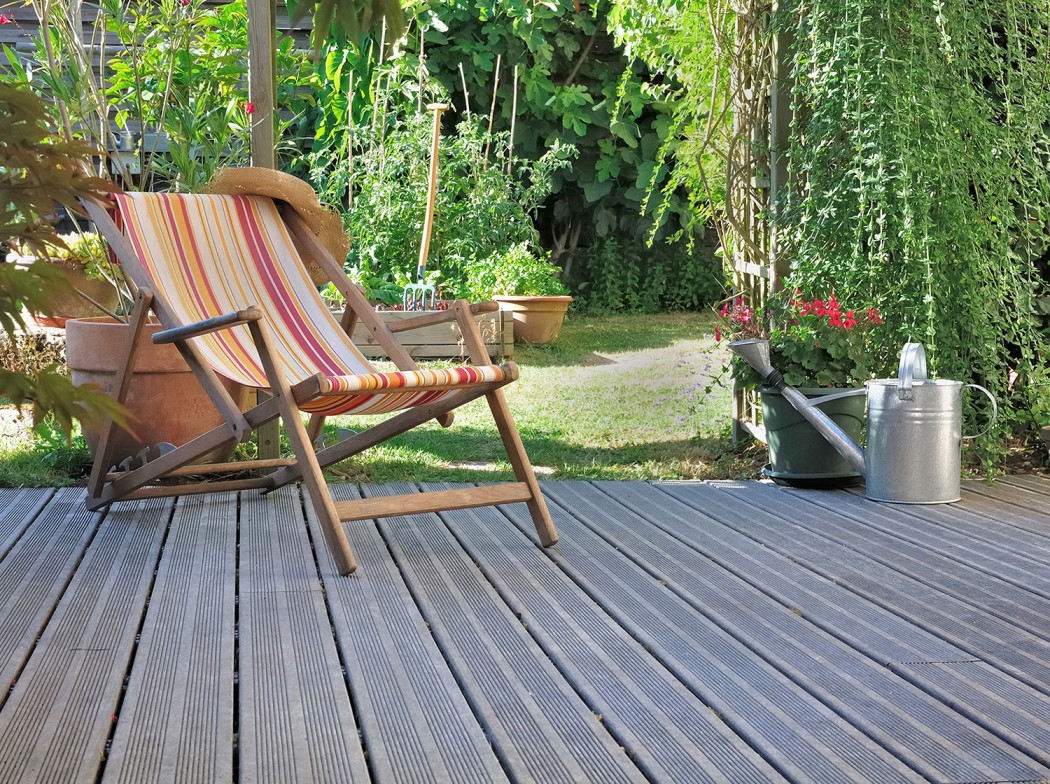 TLC or no TLC, that is the question
Aesthetics and price aside, the main difference between handsome hardwood and convenient composite is how much work you have to put into maintaining it.
With hardwood, you need to apply a protective finish - usually a specialised oil or wood preserver that penetrates and nourishes the timber. Depending on usage and exposure to weather, you'll probably have to reapply this every other year.
You can also change the colour and finish of timber decking with wood stains, paints, varnishes and non-slip finishes - we stock the lot. Looked after properly, a hardwood deck can last a lifetime.
On the other hand, composite decking just needs a wash and brush down every now and then. A stubborn stain (those flamin' pigeons) might need a bit of soap but most of the time a hose down with clean water will do it.
Composite decking should last 20-30 years - more than long enough for most of us - but it can be prone to scratches, and unlike with timber, these can't be sanded out easily.
Saving the planet, one deck at a time
These days there's a good range of sustainably sourced hardwood decking - including many of the brands we stock. All of our products are chain of custody certified.
You might be wondering what is composite decking made of? Most composite decking is carbon neutral, and you can even get 'carbon negative' products that actually remove carbon from the atmosphere during manufacture. That's because the decking boards are made from recycled wood fibre and plastics that might otherwise go to landfill.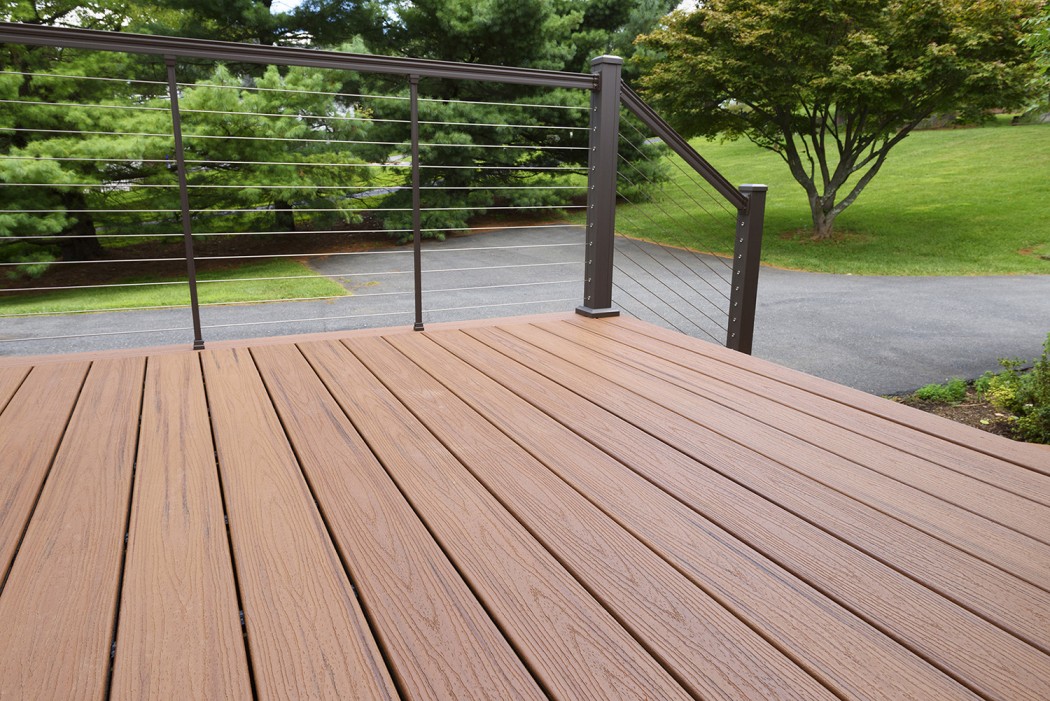 Finally…
At the end of the day there's a lot to be said for both timber and composite decking, and the choice you make will be based on expected usage, budget, maintenance plans and personal taste.
Why not check out what's in stock at your local trade merchants available on our website? You'll get a good idea of what's available - and no doubt some friendly advice to help you progress your plans.
We'd love to see how your deck turns out. Share your pics with us on our social channels @planeandsimplediy, or using the hashtag #PlaneandSimpleDIY